We love beautiful print products
Vocational Training As A Foundation
With our apprenticeship opportunities, we offer gifted young people the chance to enter the exciting, multi-faceted world of print, and the chance to make the best of themselves.
Experienced trainers, with the help of modern training methods and facilities, enable optimum and wide-ranging professional education with interesting perspectives.
External teaching staff develop on the vocational subjects studied in the company. We also offer a weekly theoretical and practical block for each of the printing processes. Trips to visit clients and suppliers are another important part of the training.
We Offer Apprenticeships In The Following Careers
Print Media Technician – Specialisation: Gravure printing (m/f)
Print Media Technician – Specialisation: Offset printing (m/f)
Print Media Technician – Specialisation: Flexographic printing (m/f)
Process mechanic (m/f) for plastic and rubber technology
That's why we're working intensively to refine media and brands from well-known manufacturers in the food, drinks and tobacco industries.
Working in the BEUCKEGROUP means being part of a modern and international family firm. We operate in a dynamic and highly competitive environment. The global packaging market and the business segments that we serve are fascinatingly varied.
We are constantly looking for talented people – in many different ways – who share our passion and want to grow with us, tackling daily challenges with enthusiasm and creativity.
Join our team and discover the exciting and multi-faceted world of flexible packaging!
Welcome to the BEUCKEGROUP
Vacancies
We're excited about every application.
APPRENTICESHIP AS PRINT MEDIA TECHNICIAN WITH SPECIALISATION IN GRAVURE PRINTING (M/F)
For August 2016 (Start date)
Requirements:
Secondary Certificate I / Mid-Level Secondary Certificate or good Low-Level Secondary Certificate
Good ability to differentiate between colours, and good vision
Interest in mechanics, electronics, physics and chemistry
During the three-year apprenticeship, you will learn how to set up our printing machines, control and monitor the printing process, and plan the progress of print jobs.


Do you want to join our team?
Please send your complete and informative application (cover letter, CV/resume, photo, copies of certificates) to:

BEUCKE TIEFDRUCK GmbH
personnel department
In der Garte 11-13
49201 Dissen a. T. W.
Or by email to: personal@beucke.com
We are looking forward to you
Operator for Laminating Machine (m/f)
The BEUCKE TIEFDRUCK GmbH is an integrated system partner for high-quality print finishing and converting of flexible packaging. The international and national customers can be found in the cigarette, food and beverage industry.
To support our new production area lamination in flexible packaging we are looking for a Operator for laminating machines (m/f).
Precondition
Apprenticeship as process engineer for plastics and rubber
Or packaging technologist
Or experience in operation of production facilities
Several years of professional experience is desirable
Responsible use of resources
Willingness to work in 3-layered system
High quality demanding
Learning and training readiness
Good knowledge of German in speaking and writing
Careful and independent operation
Flexibility and teamwork
If you find yourself in this profile and like to work in an innovative, technologically advanced companies, we look forward to receiving your application.
Send your detailed application papers, stating your earliest possible starting date and salary expectations to:

BEUCKE TIEFDRUCK GmbH
personnel department
In der Garte 11-13
49201 Dissen a. T. W.
or by email to: personal@beucke.com
Your area of responsibility
Setup and control laminating machines
Monitoring of ongoing production and fine adjustment
compliance to quality standards and execution of required tests
Preparation of all necessary materials for the laminating process
Participation in the process optimization (CIP)
Keep your workplace clean and tidy (5S)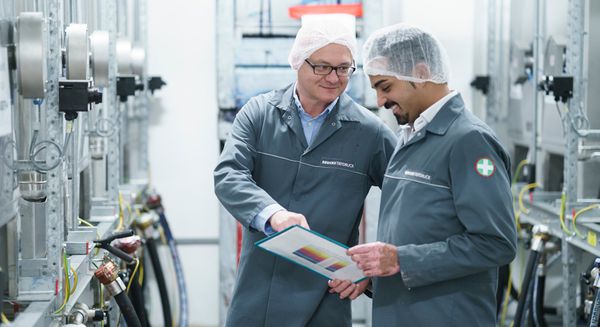 OUR EMPLOYEES ARE IMPORTANT FOR US!
That's why we are glad to offer you a large number of incentives and continued training.
To name just one example, there are training events on the topic of team management for machine operators and shift supervisors. Business employees have the opportunity to take part in a weekly English course, and there are sales training events for our sales employees.
Of course, we are happy to take your wishes into account with regard to further training opportunities.